Many products can be thought of as something that will enhance the elegance of the style they already have. The best vape cartridges, and many other products that have to do with drugs, are thought to complement your style. Custom Vape Packaging that must carry them is also considered the same products. Our vape cart boxes were designed with the expectation that they will be elegantly received by their potential customers.
Vape cartridges are being used by dozens of people around the globe for their addiction. But, they're also used as style icons. The market is seeing an increase in demand for vape cartridges due to this trend. To make your product stand out from the rest, the packaging is essential. Get the best Vape cartridge boxes with the cosmetic boxes
We guarantee you the highest quality material available among all other materials. Our company is not only concerned about the quality of the material, but also the design, shapes, colors, and printing. You don't have to worry about anything after you place an order with us. Our talented and creative team will work tirelessly to deliver the best vape cartridge boxes.
Vape cartridges, however, require extra care as they are fragile. The best boxes are made to protect your product inside. Your custom vape cartridge boxes will highlight the unique features of your products and add a personal touch to your boxes.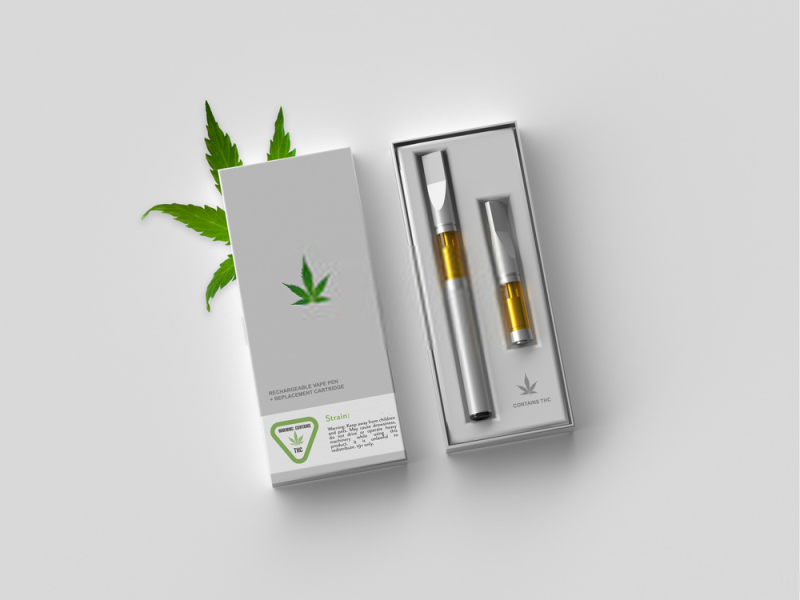 Material Utilization For Boxes
There are many options available to companies when it comes to choosing the right material option. These are some of the options available for the material. Any of the listed materials can be used.
Cardboard
For packaging various products, cardboard is the most recyclable material. It is however the most widely used packaging material because it protects the product from any damage. This material can be printed in any color you like
Cardstock
Customers also love this material. This is a great material for packaging. This material can be used for shipping purposes as well.
Kraft
Kraft is a biodegradable material. Kraft is also able to withstand most adverse climatic conditions. This material is preferred by most customers because it is environmentally friendly.
Customers Can Customize Printing Options
There are many options for printing. Print any type of logo, description, or product detail, as well as images and cautions. High-technology printing is used by our company, including digital, offset, and flexography. Customers also have the option of choosing from two color options, CMYK or PMS. Customers prefer CMYK because it has a lower price range than PMS. However, PMS is a better choice if you need more pigmented colors for printing. Customers will be attracted to boxes with eye-catching colors.
Add-ons Can Give Your Boxes a More Appealing Appearance
This is the most exciting part, and the customer will feel more excited than anything. There are many options for add-ons that they can choose from. For the final touch to the box, they can choose from matte, gloss, spot UV, spot, and embossing. If you wish to increase the security of your product, you can add inserts to your boxes. The boxes are designed so that the first glance is a memorable one. Your boxes should also leave a lasting impression on customers. This will increase the sales of your product.
Vape Cartridge Boxes Provide Protection
Packaging is designed to protect the product inside. This is because you want your product to be protected from any possible damage.
it damaged. The custom-made vape cartridge boxes and vape cart packaging provide the protection that is required for the product. The vape cart boxes are made from a high-quality material that will not compromise the protection of the vape cartridges. These vape cartridge boxes also prevent external shocks.
Read More:
https://www.klusster.com/portfolios/alix/contents/217624?code=3ba256a5-d2bf-4a98-8e6c-2f28a54c022d&share_content=true